Using up some of my leave from work to spend a few days on the toolset, especially as the weather's turned so poor here.
Making fair progress with Chapter One. On a whim, I've added an additional exterior area, with nothing plot-critical in it, and even with the likelihood that the player will never see it. I've done that a few times now, and wondering if its my way of putting off doing other things such as companion conversations and journal entries, which I've been avoiding so far. That said it's been a good experience - a 24x26 area built from scratch, and I think looking pretty good, with encounters, conversations, sounds etc all put in a about 2.5 days of me on the toolset, not sure how many hours that works out as. But I'd been a little worried about later chapters and how long they'd take to build with their exteriors, but this one went pretty well i think. I'm not in the league of some of the 'artists' out there, but I'm happy with it - the amount of extra time i could try and sepnd making it look better would be better spent elsewhere i think. Small sneak: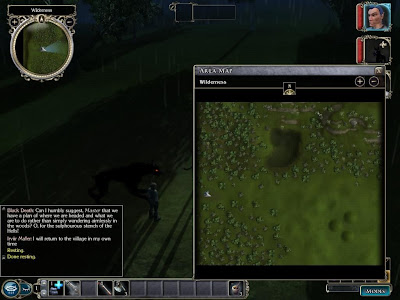 Minimap shows what I was trying to acheive - a good wilderness area a la BG1 to roam in.
Will be leaving some things like commoners/villagers out of the alpha for now, So I make it 9 conversation, then journal entries, until I'm done. Got a feeling they'll take longer than I think.